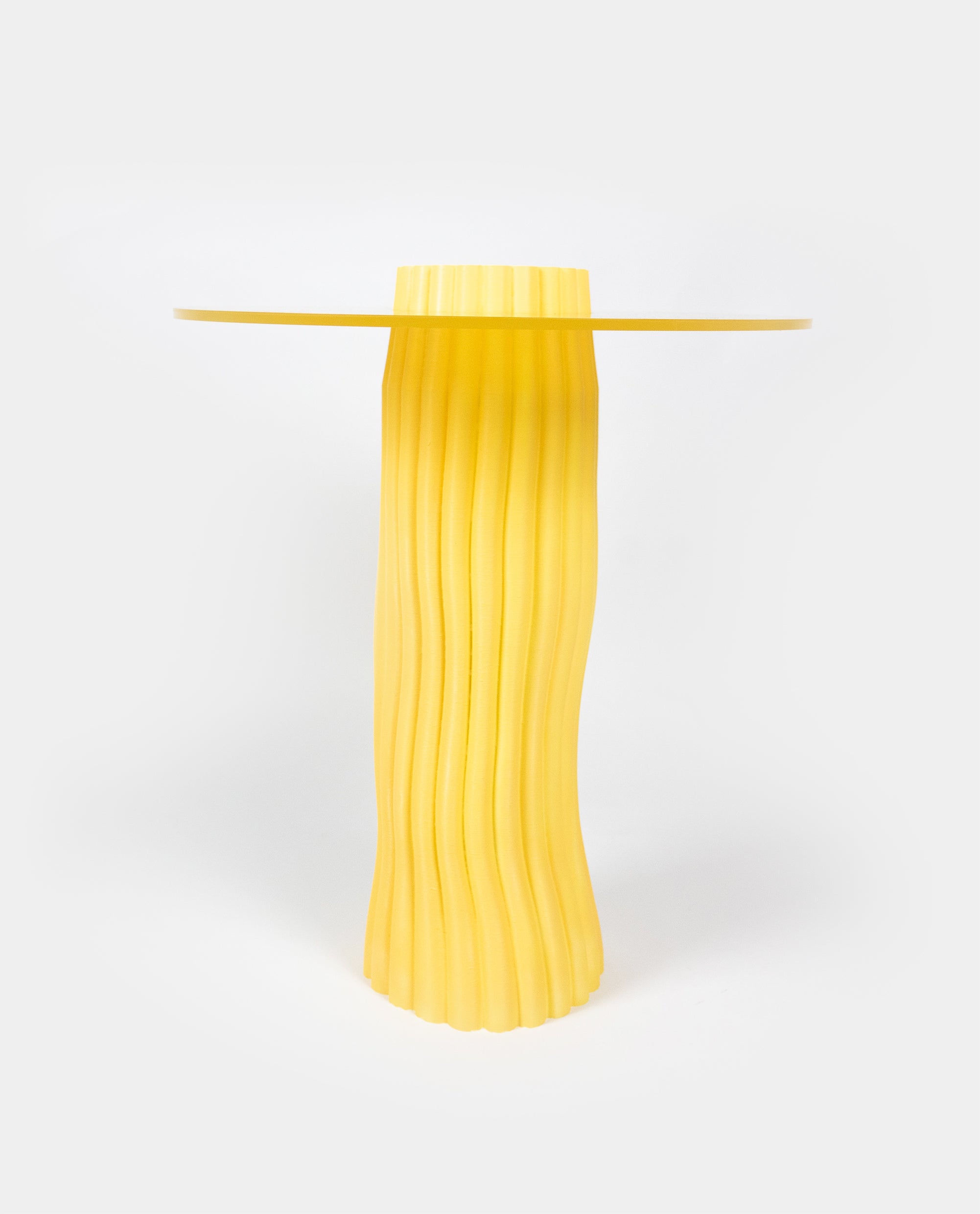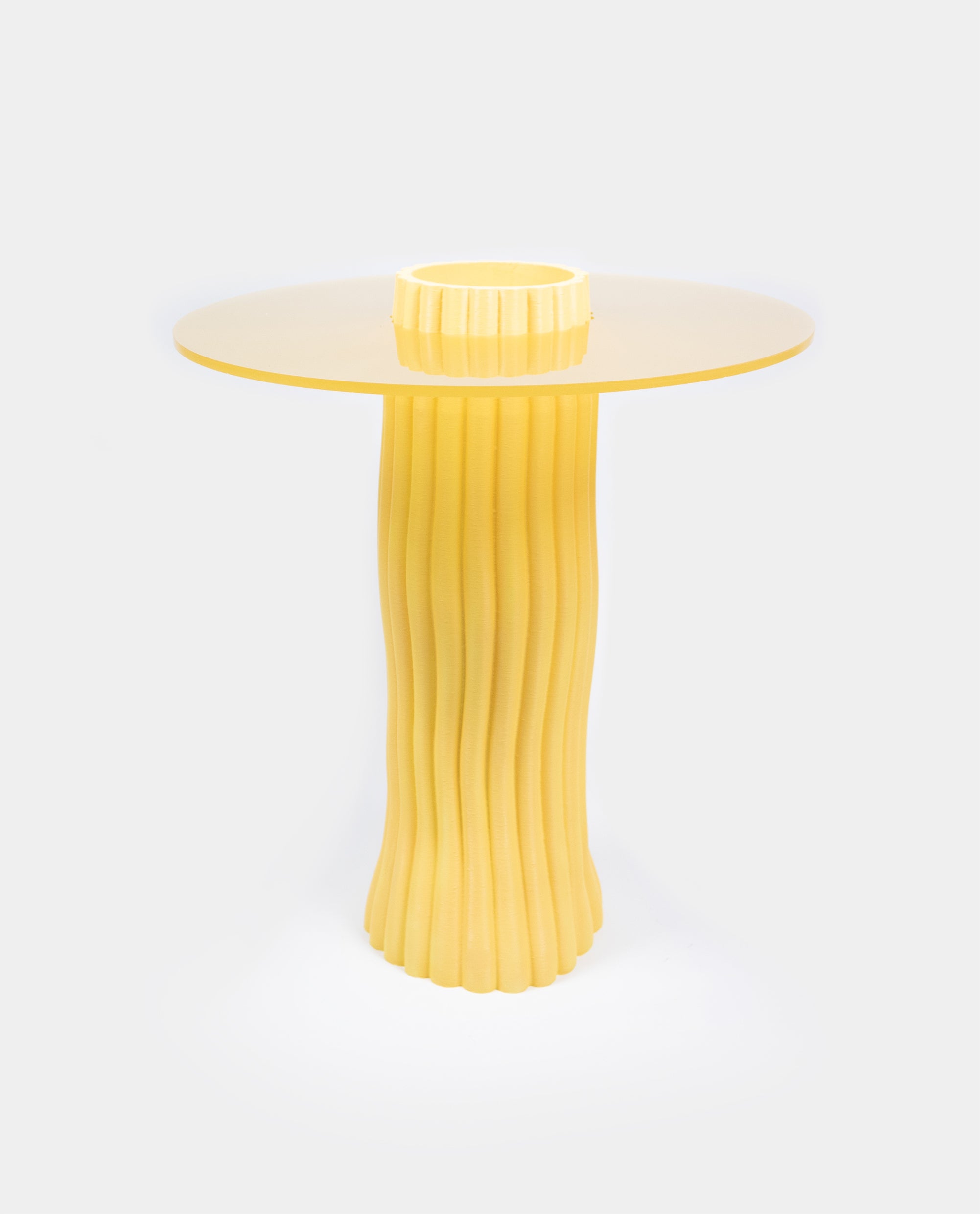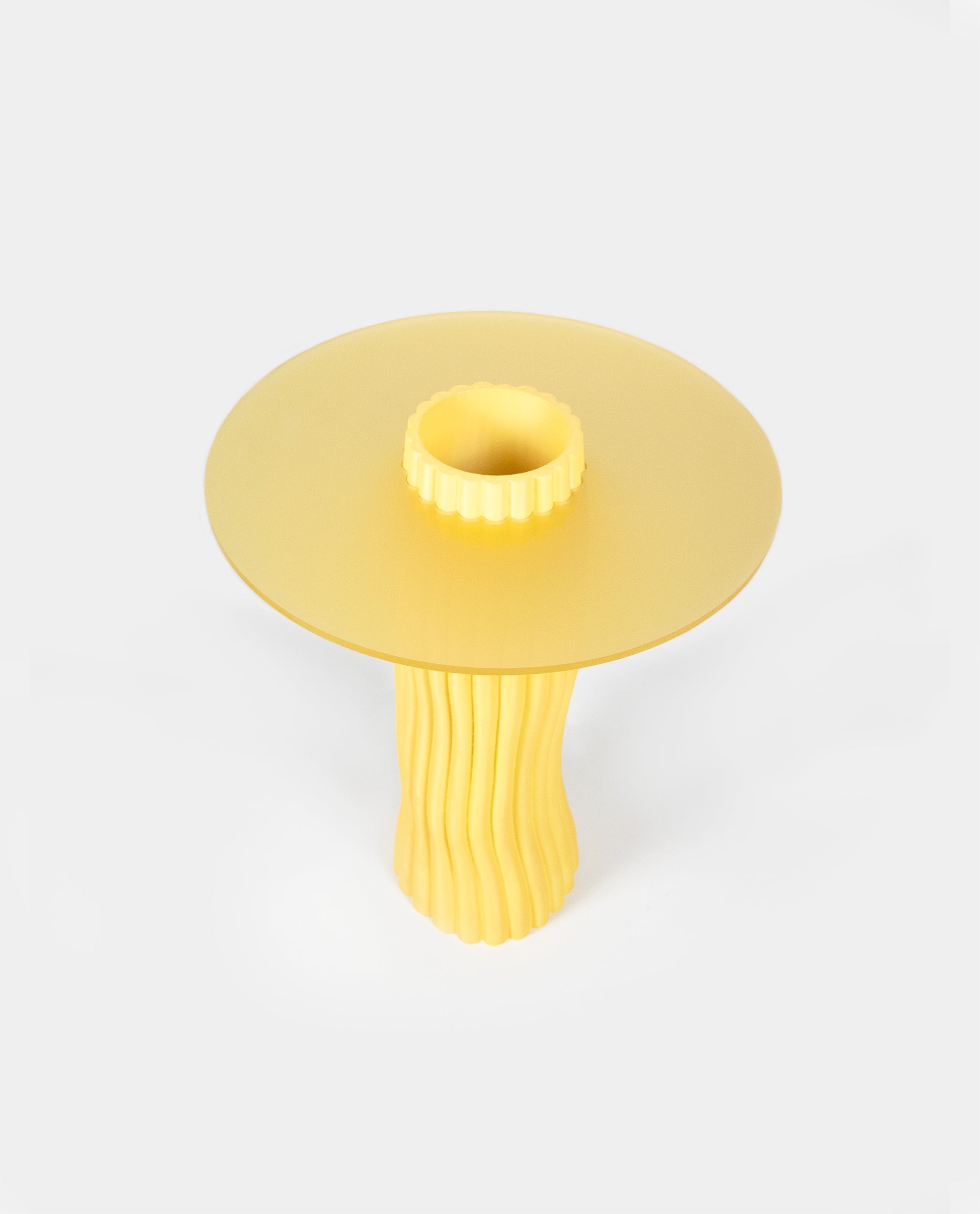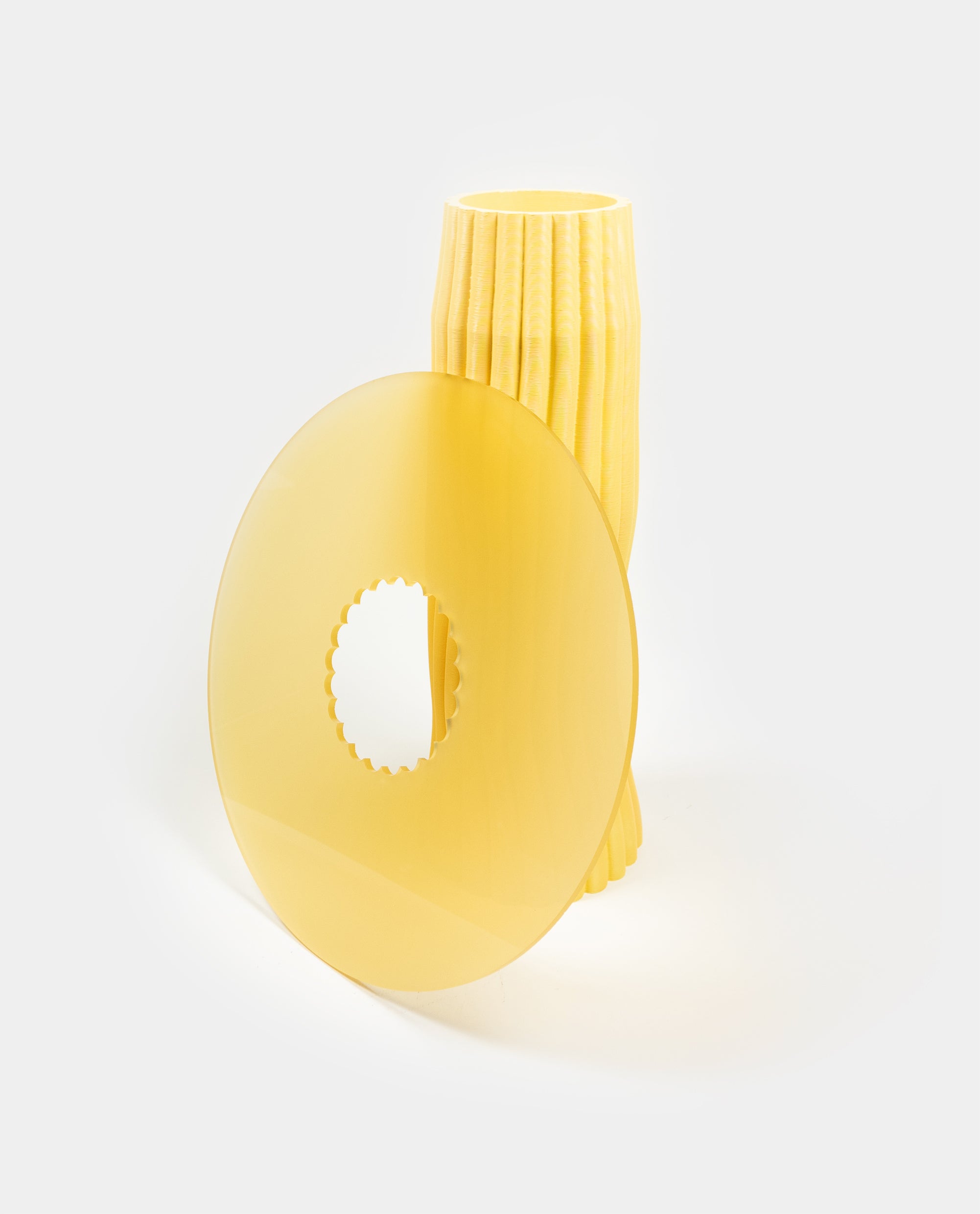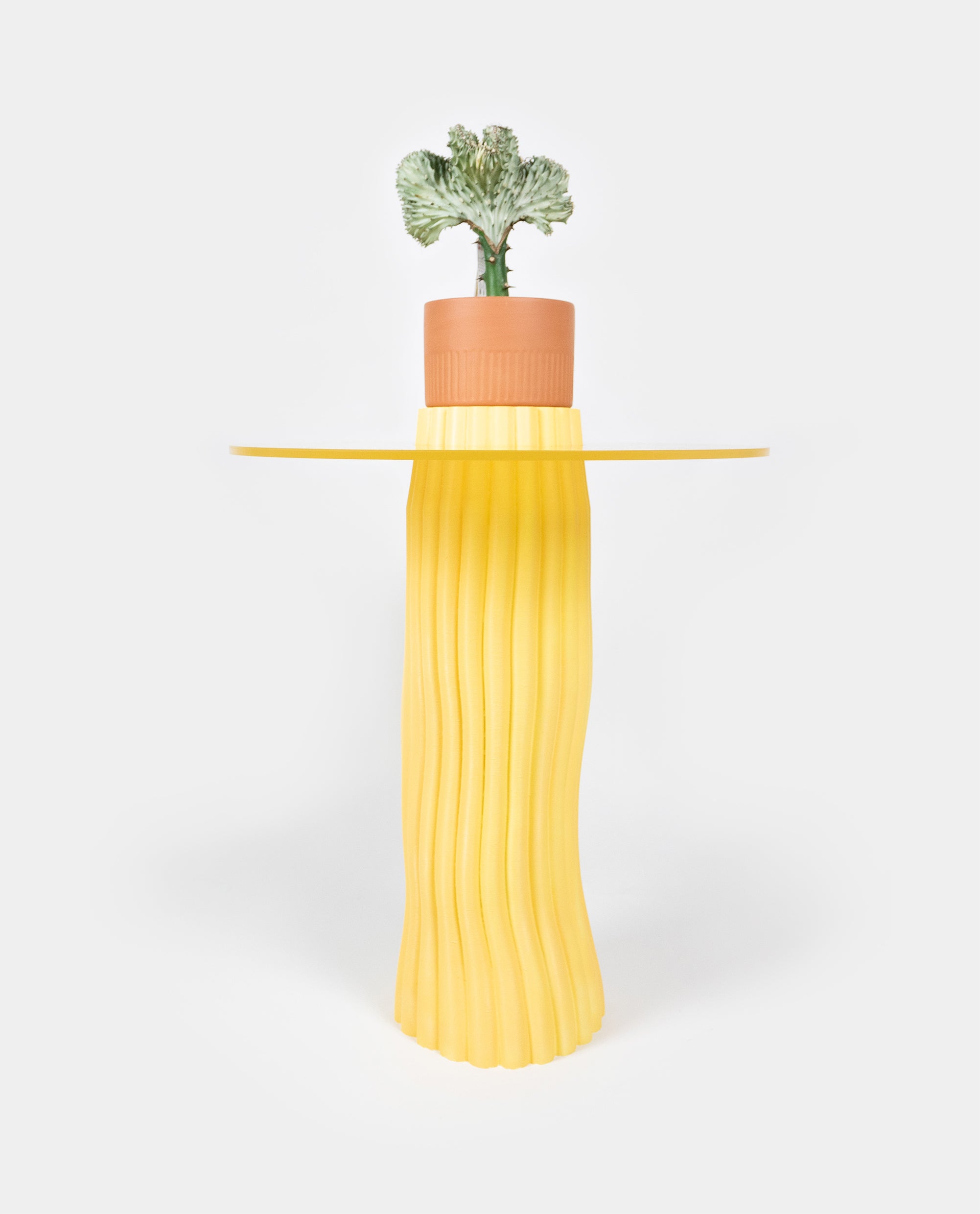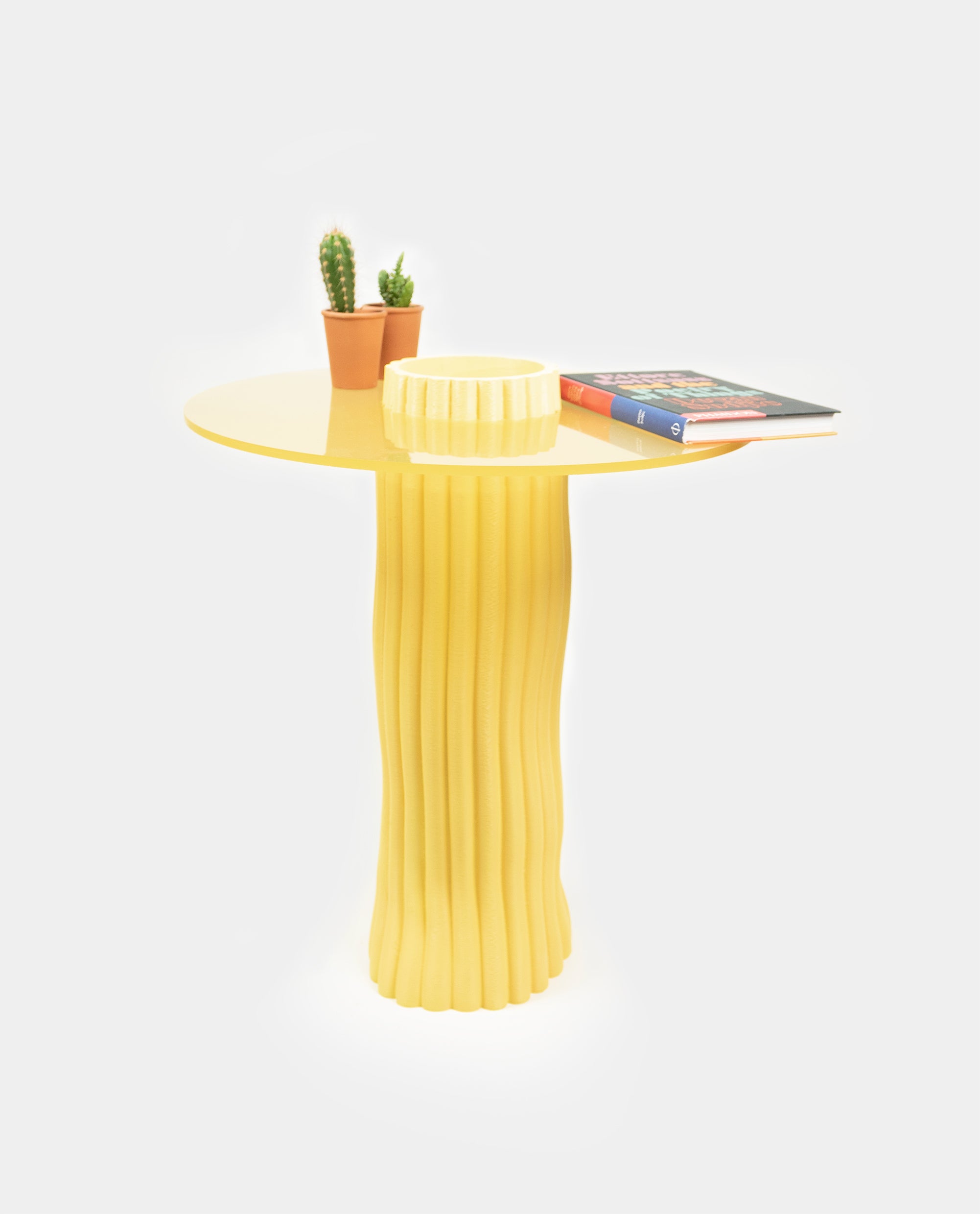 Shipping costs and delivery time calculated at checkout


MADE TO ORDER
ESTIMATED PRODUCTION TIME — 4 WEEKS


3D PRINTED COFFEE TABLE
PLA (Poly Lactic Acid) derived from Biological sources, Biodegradable


MACCHERONEXTRUSION.obj is an ornamental object that can be used as a coffee table thanks to its translucent PMMA top. In addition, the small opening that pops out of the top can be used to store, for example, vases of the appropriate size or anything within those sizes.
This coffee table takes its inspiration from the creation of "maccheroni". Extrusion. In this case, in the object we can see how, in addition to the result of this extrusion that seems to be still on going, there is also the template from which the "maccherone" is extruded, represented by the PMMA top precisely carved with the CNC technique to fit gently with the base, the "maccherone" itself, which was given life thanks to the 3d printing.
Two pieces, in short, that meet, and that tell together how it is possible to give life to such a characteristic food but that thanks to the use of digital can become something new, unexpected, ironic, and highly recognizable aesthetic.
An iconic object, which contains within it the history of a production process unknown to many, turning towards the future of creation and becoming a symbol of a nation, Italy, which must always look to the future and not close itself in its traditions.


55 x 55 x 65 cm
5.3 kg
Pasta Yellow, Flour White, Basil Green, Tomato Red, Wall Grey
Eindhoven


INSTRUCTIONS

Handle with care, don't use solvents.
GIANMARIA DELLA RATTA

(b.1993) Gianmaria Della Ratta, is an Italian designer based in the Netherlands. He dedicates himself to the realisation of personal projects and collaboration with various companies, where he is often called to develop innovative projects in close consultation with the various research and development departments. Abundance of expression and conceptual complexity coexist at the same time in his objects, amalgamated by the constant search for new production processes that often result in modern and innovative technologies used to overcome the current limitations of creation.

Often starting from the origins of an object, he deconstructs it, to deepen its meaning, challenging the perception of material and immaterial and questioning the very sense of functionality. Through careful, cunning and uncommon digital manipulation, he manages to achieve completely unexpected and absolutely new results that not only distinguish his style but also give objects an attractive and never seen before aesthetic. The unusual use of latest generation software are often part of his creation process that he pushes to the limit through choices mainly related to his intuition, which lead him to solutions not necessarily related to functional, aesthetic or market needs, but that result in a constant experimental and surprising approach.