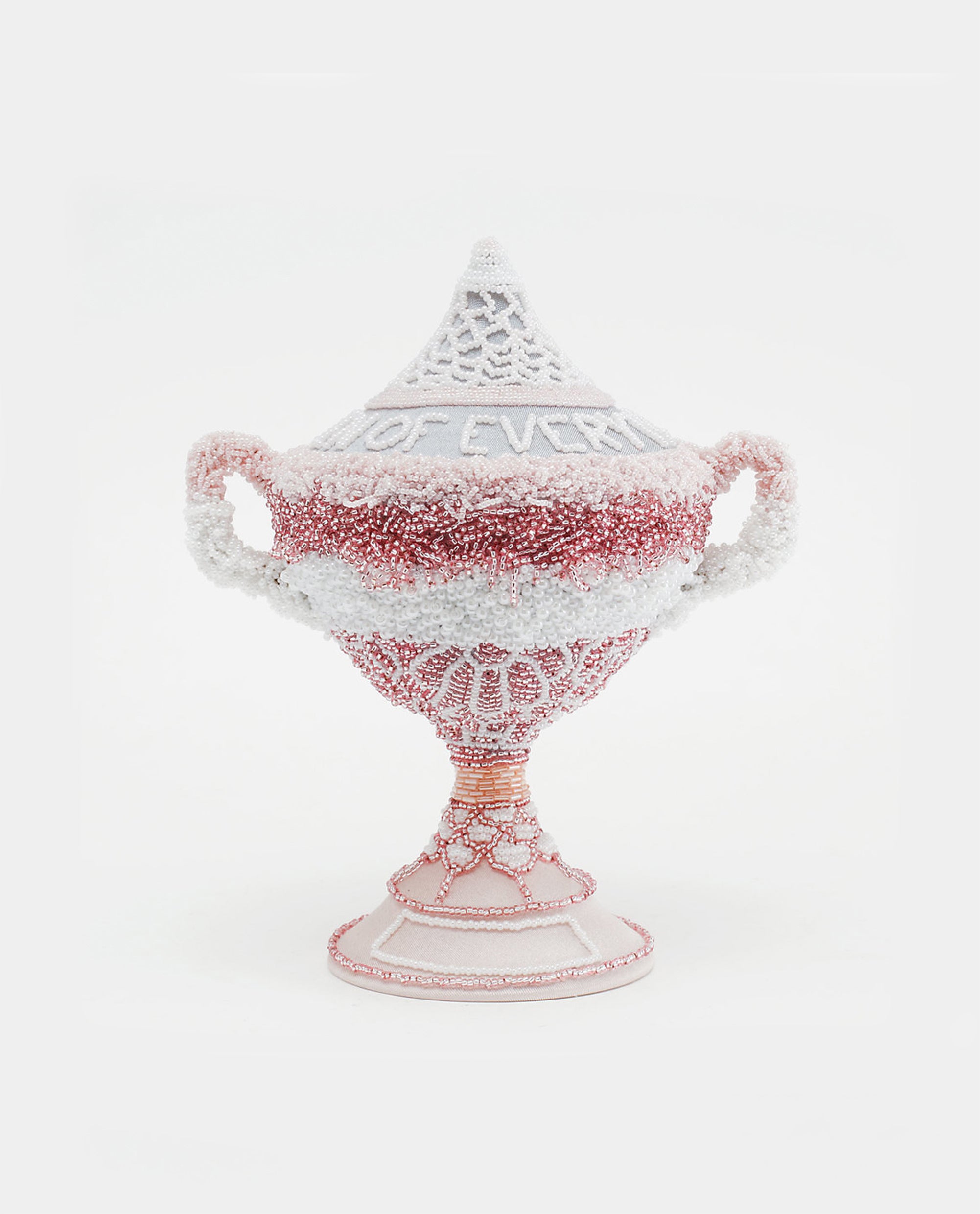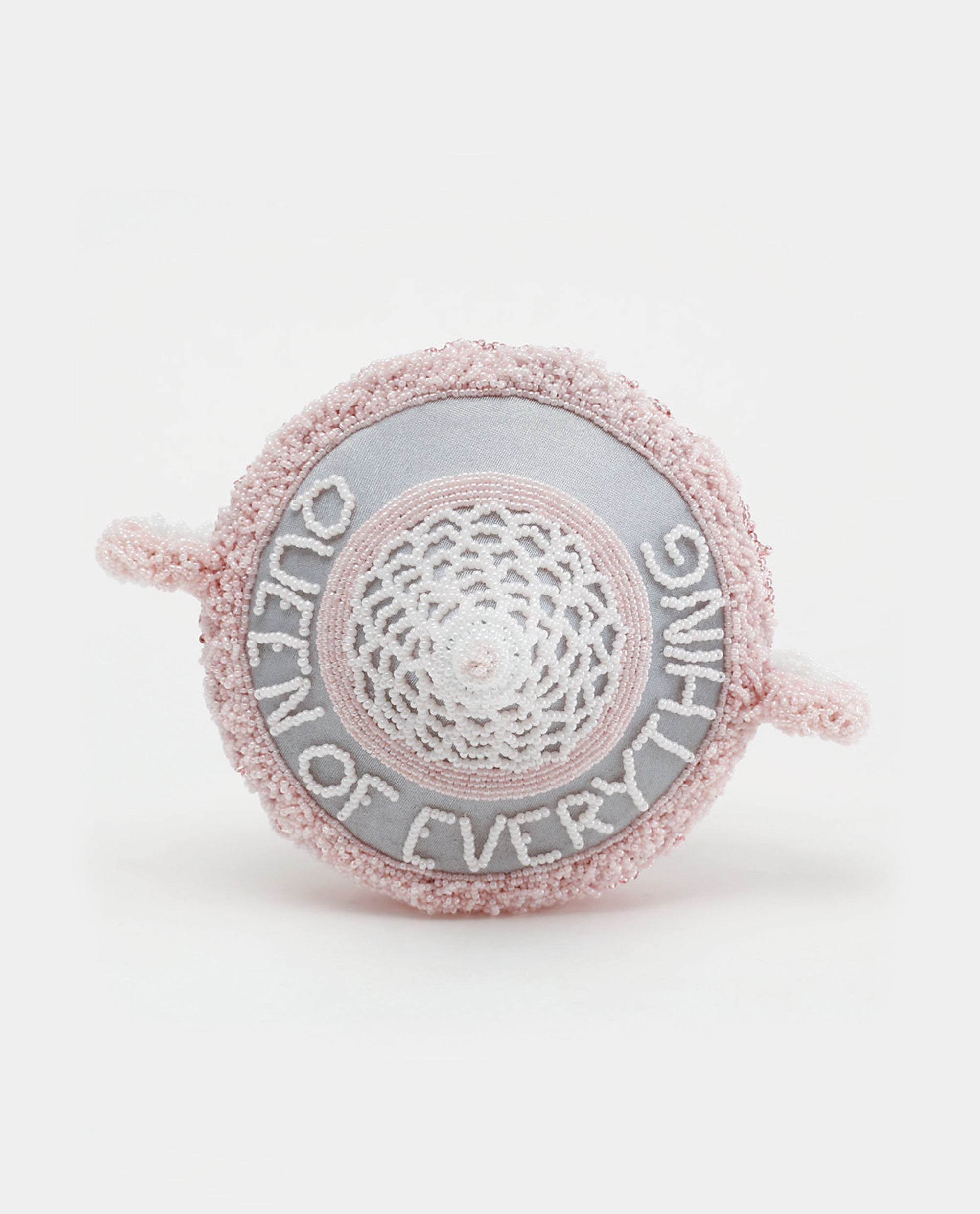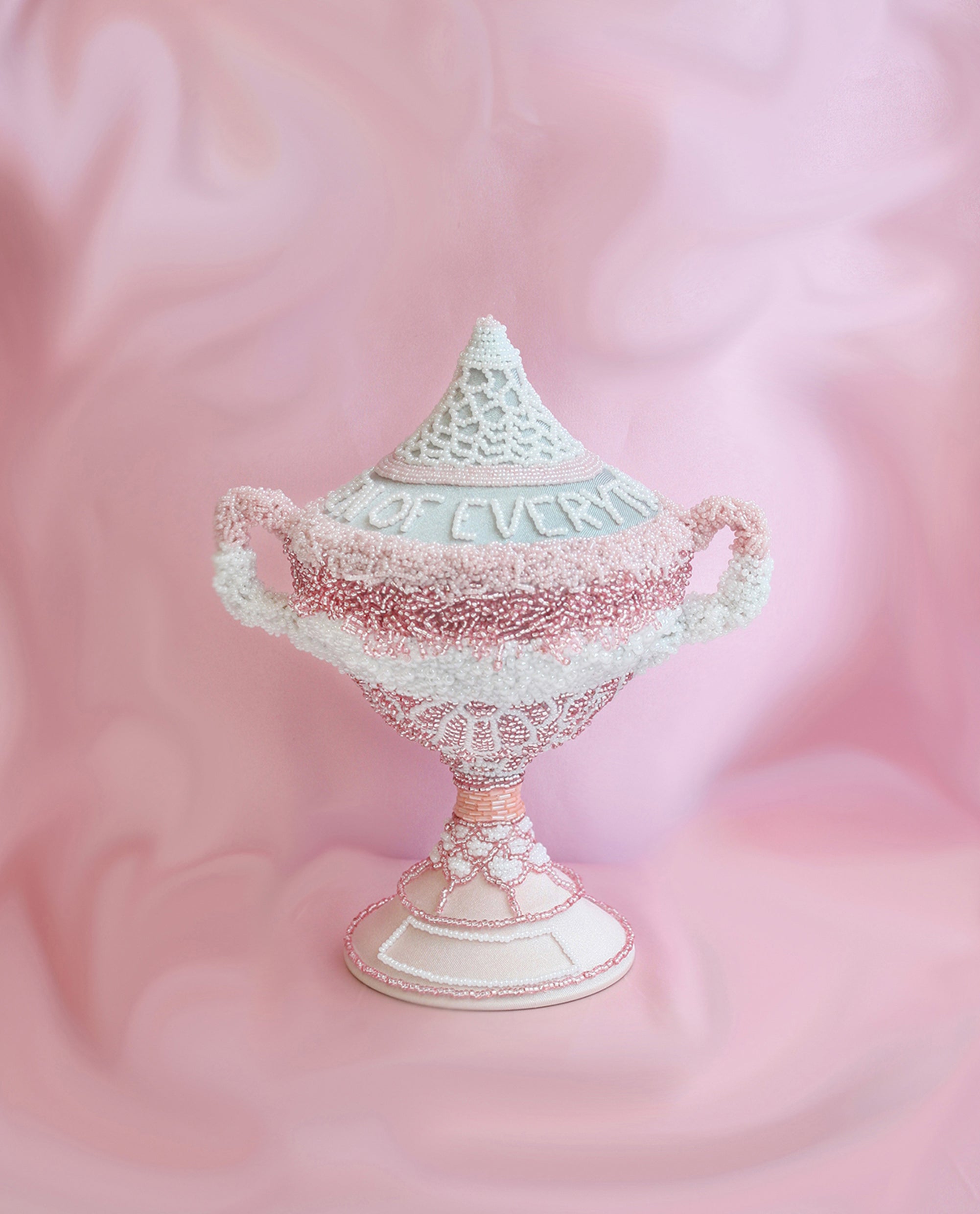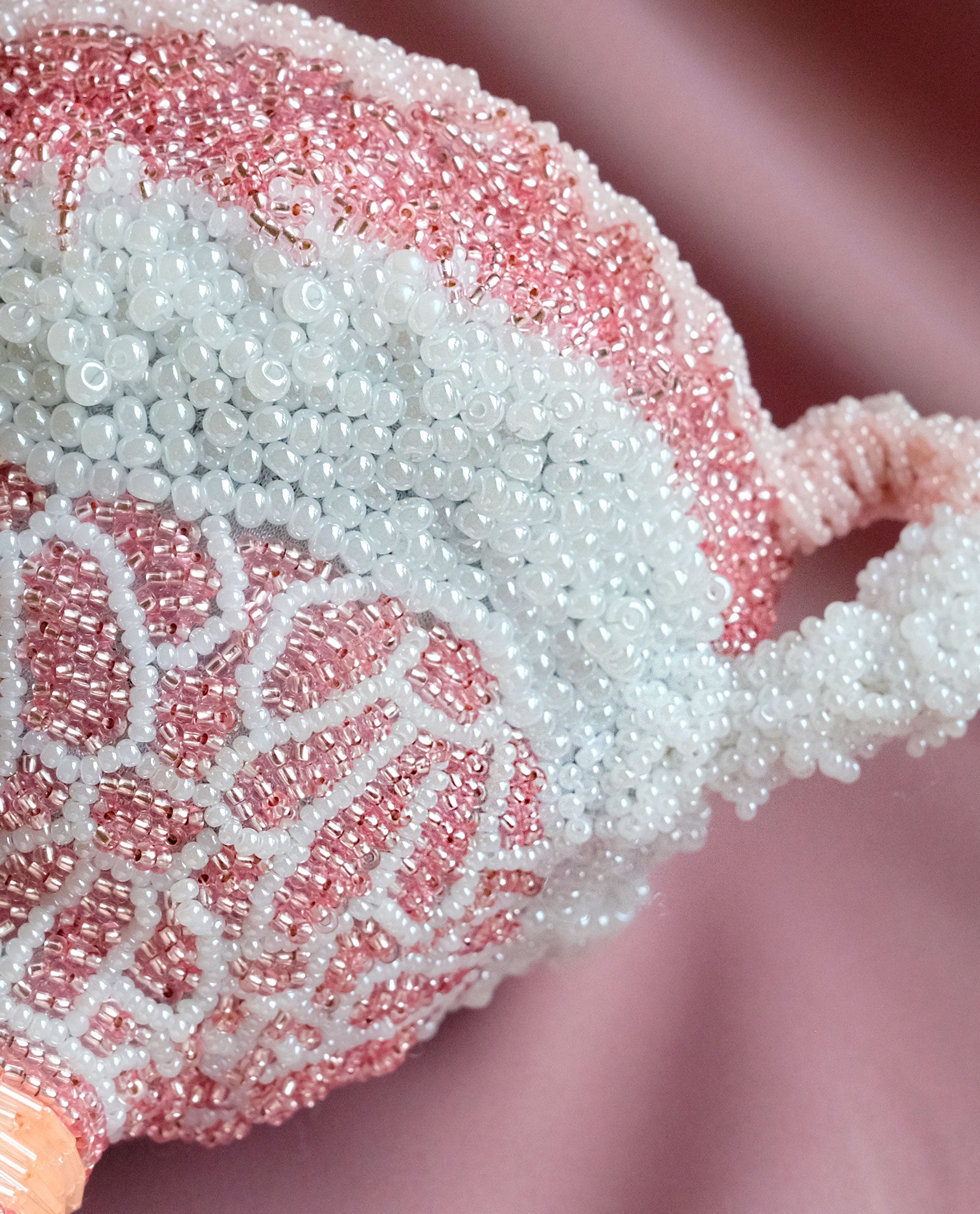 Actually exhibited at Good Sessions Gallery from Jan 20 — Apr 2, 2022.
Contact us for more informations.
Shipping costs and delivery time calculated at checkout
UNIQUE OBJECT


BEADED TROPHY, TEXTILE SCULPTURE
Pewter trophy, Spandex, Glass Beads


"Queen of Everything is the starting point, and first object, in a series of textile trophies and banners I'm about to make during 2020. 
The trophy as symbol for victory has been very much present in my life, during my teenage tennis career. The year of 1998-2006 was a constant struggle for more trophies to add to my wooden shelf, a strive for winning. A strive for perfection. A proof of success. The Trophy is a tangible, durable reminder of a specific achievement, and serves as recognition or evidence of merit. Trophies have marked victories since ancient times, first as war trophies taken by brave male characters. Later made in silver and given to male winners of the Olympic games.
The trophy symbolizes a body, a shell, a container. In 2020 I want to claim the male coded trophy as a feminist symbol, by adding a new cover in shiny beads and glittery fabrics. Let the trophy talk for itself." — Lotta Grimborg


20 x 14 x 23 cm
0.6 kg
Pale pink, light grey, mother of pearl white
Gothenburg


INSTRUCTIONS

A pewter flea market trophy covered in beads. Each bead is embroidered by hand and covers most of the trophy.
This is a sculpture and it's not meant to be used, only for decoration.Please handle it with care! Do not place in direct sun light as it can have impact on the color of the fabric and pearls. When dusty just brush it off with a soft brush or a dry cloth.
LOTTA GRIMBORG

(b.1988) is a Swedish textile artist based in Gothenburg. She uses tiny glass beads and various stitching techniques to embroider a narrative, lately evolving around competition, rivalry and motherhood. She integrates found textiles with her own digital printed fabrics to create textile collages, banners and trophies. Through the textile making she feels a connection to all the women out there. She meets them in the stitches and the seams, in the tactile knowledge that has been passed on through generations of women.

She holds a BFA from Konstfack University of Arts, Crafts and Design in Stockholm and a MFA from Academy of Design and Crafts, HDK-VALAND, in Gothenburg. Her work has been exhibited in galleries and museums both nationally and internationally. Open Craft (Örebro), Dotdotdot (Stockholm) Boy Konsthall/ GIBCA Extended (Bollebygd), Dunkers Kulturhus (Helsingborg), Konstepidemin (Gothenburg), Galleri Marzee (Nijmegen), Galleri Rosanna Orlandi (Milan). She has been an artist in residency at Boy Konsthall and in October 2020 she will be an artist in residence at Icelandic Textile Center, Blöndous.