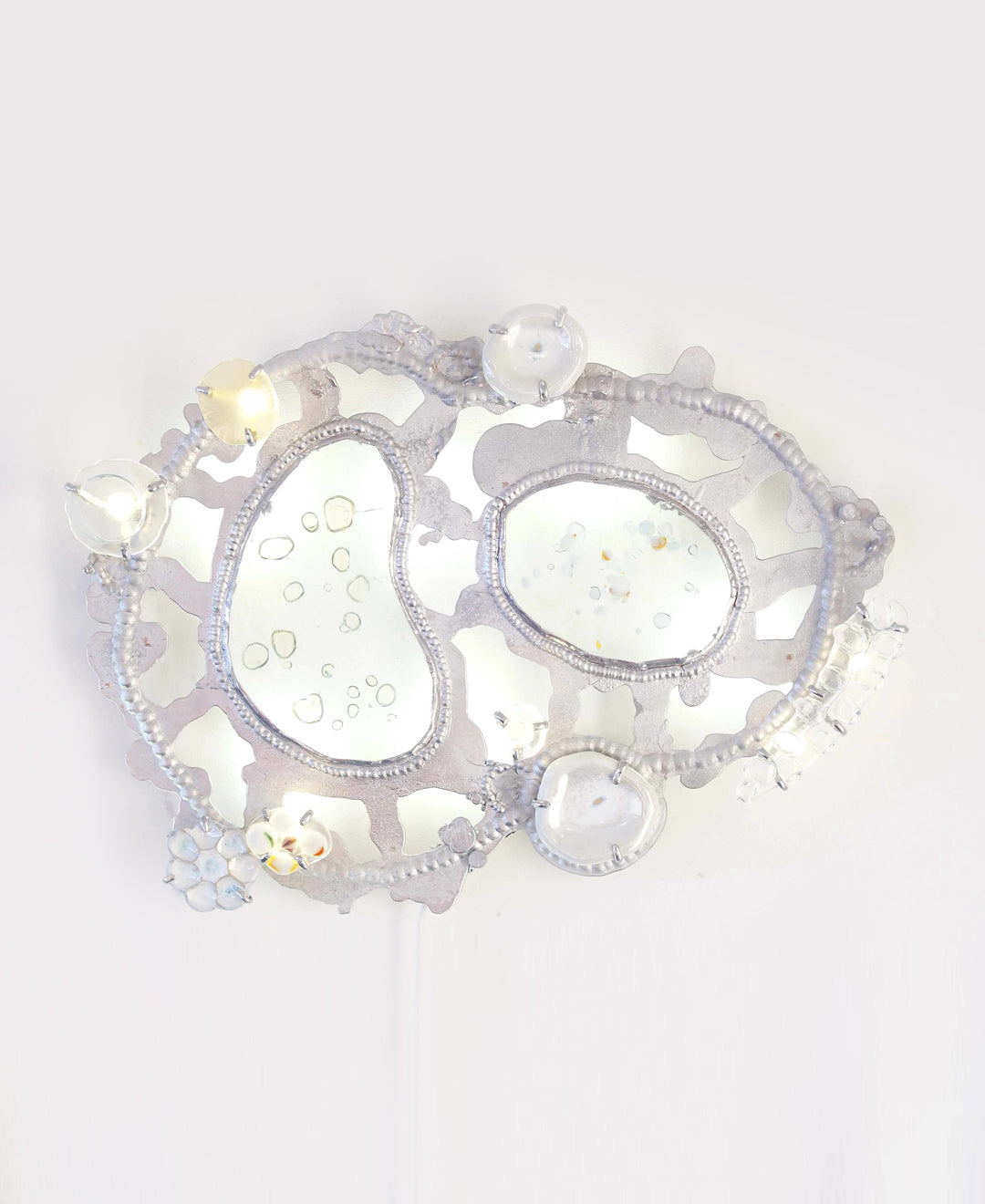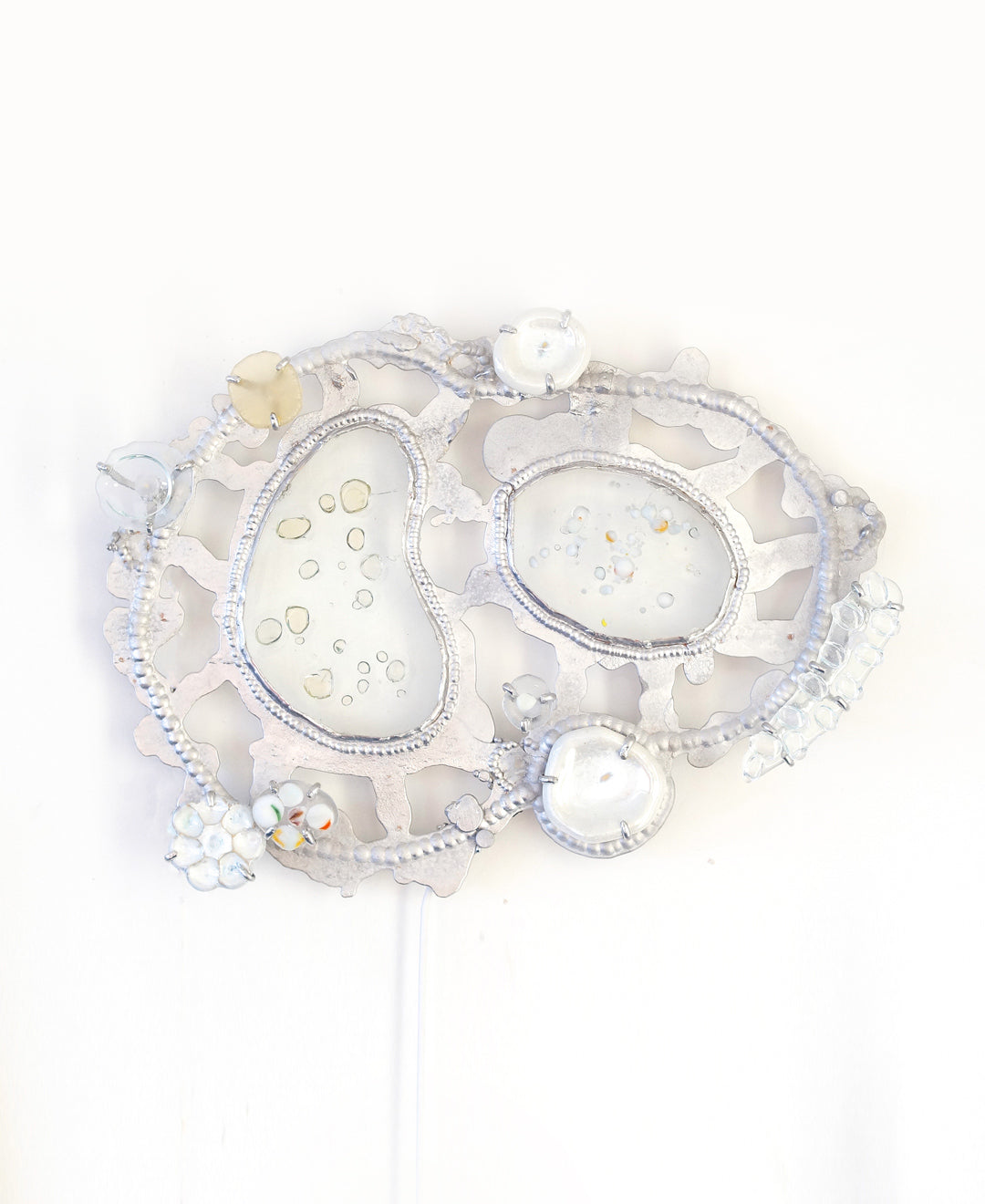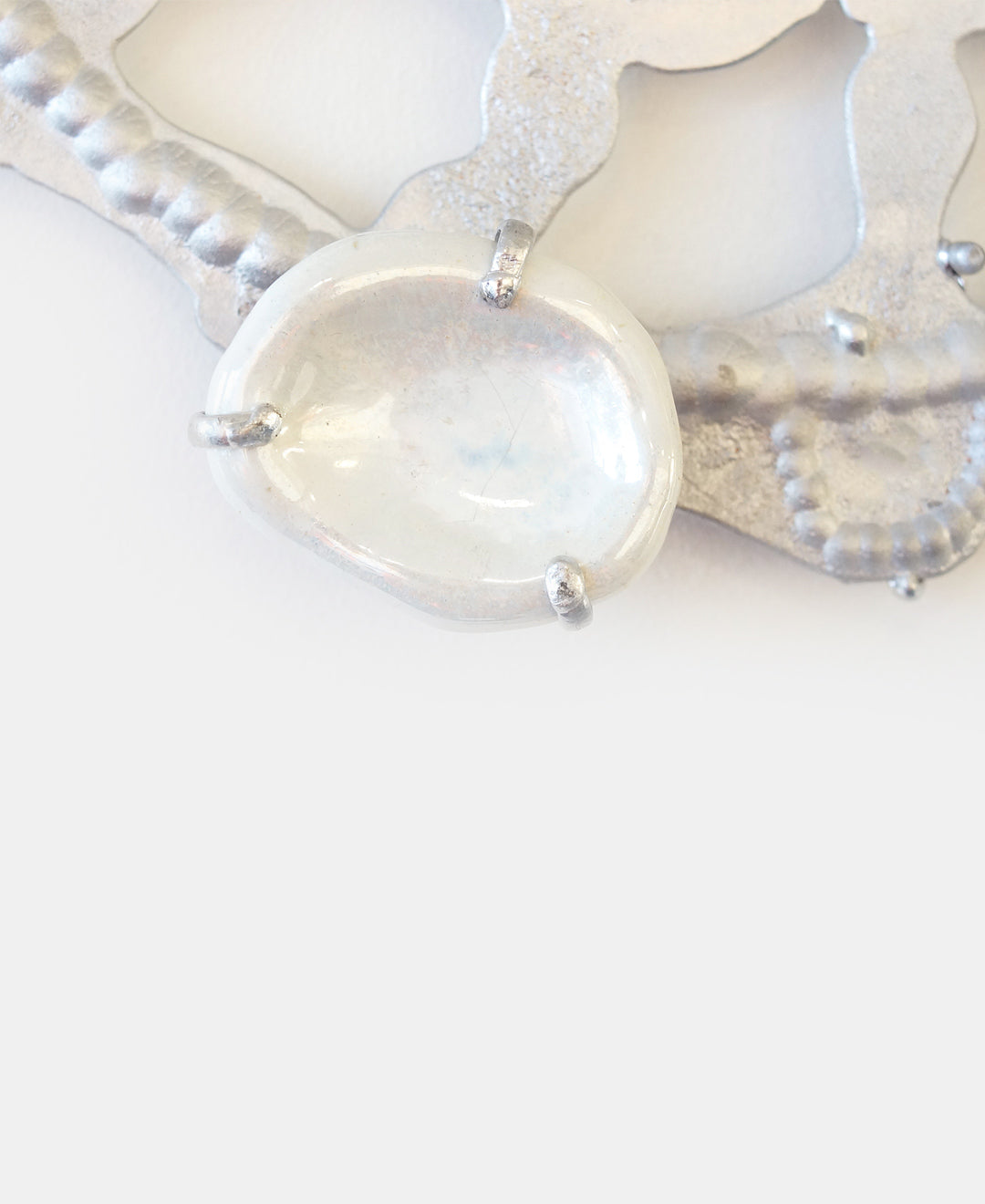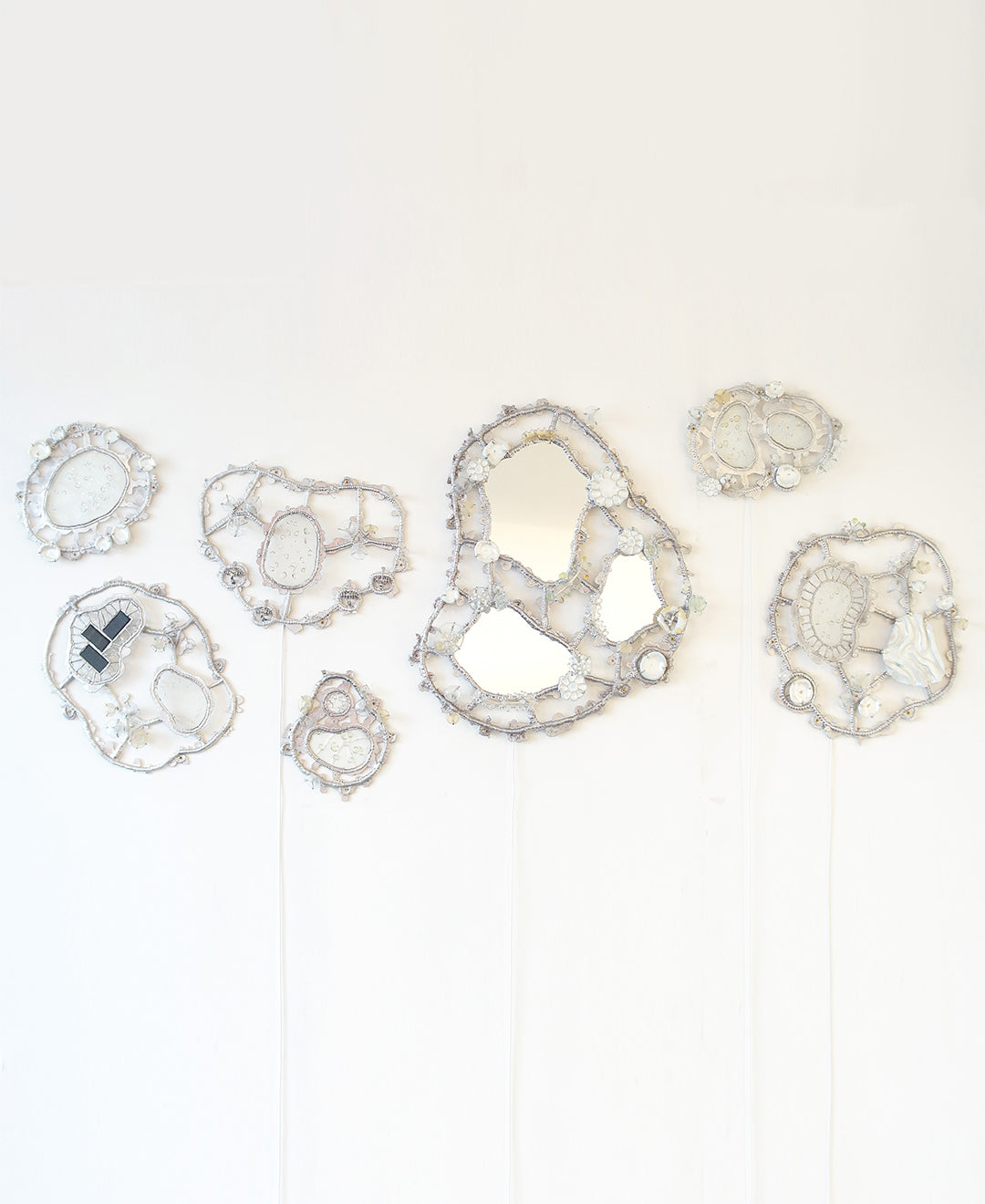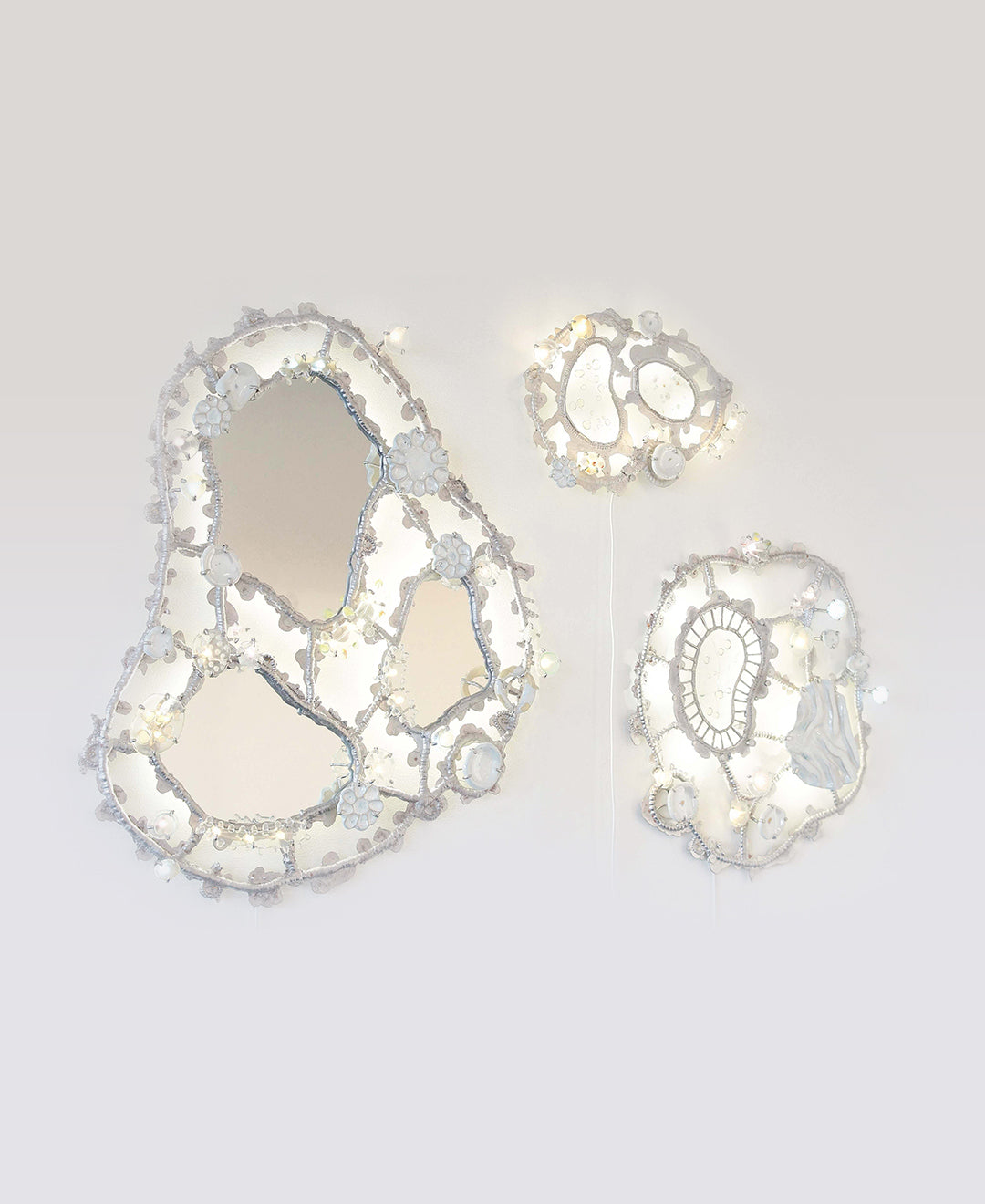 Shipping costs and delivery time calculated at checkout


MADE TO ORDER
ESTIMATED PRODUCTION TIME — 3 WEEKS


WALL PIECE
Tin, Glass, Ceramic, Electronics

Polyphony means a musical texture composed of multiple melodies that merge to form a harmony. Similar to melodies, the array of fused glass and sculpted ceramic on the wall pieces come together to form a dance between hard and soft, synthetic and organic. In a world of mass production where strict requirements dictate the forms of objects, Barry liberates materials by allowing them to crack, morph and melt. From puckering glass to overflowing metal, the pieces embody the materials in their native world.

Starting with remnants from a bygone era of ornamentalism, Barry takes old textured glass from broken windows, and decorative tin plaques from scrap yards to see how these materials and craft techniques can be reimagined for our contemporary age. By melting the fragments of broken glass they re-awake, and mingle with one another to form new diverse relationships and patterns. Through heat, the tin plaques also reach a molten state, relieving their former appearance so they can take on more fluid, organic forms respective of the material's natural tendencies.

By viewing each wall piece as an independent organism, Barry composes it's elements to meet the piece's needs. For example, one of the pieces uses solar to store energy, and illuminates itself when it gets dark. Another piece uses a series of switches to add tactility to changing the colour and intensity of the light.

In a time when our domestic environment is dominated by straight edges, standardisation and efficiency, Barry believes it's important to embrace more organic form languages that reflect the rhythm of the natural world, albeit in an unprecedented way.




38 x 7.5 x 29 cm
1.7 kg
Silver
Eindhoven



INSTRUCTIONS
Wall pieces are mounted using an included screw template.
Each piece comes with a 2 meter power chord.
The lights can be turned on and off by touching the ceramic element. 

Barry Llewellyn

(b. 1998) is an Irish designer, currently based in Eindhoven, Netherlands. Barry received his BA from Design Academy Eindhoven, during which he established his practice centred around creating experimental objects for interior space. Often starting with remains as diverse as broken ceramic and discarded plastic, he balances a juxtaposition between the artefacts we consider waste and those that we treasure dearly. By binding these materials together, he grows new forms which are rich in colour, texture and diversity to shape stories that are both materially and politically relevant to our time.